Ok, now those of you who know me well know that I consider myself to be about as unfashionable and un-trend-conscious as they get. Like, I'm just now realizing that crop tops are back (not for me, they're not...)
So take anything I say with a grain of salt. I remember last summer hearing something about socks with sandals and brushing it off as nonsense...but I just saw this on Topshop's website and it made me cringe:
Yes, that does say "I love these wooden sandals,
and they look great with a pair of cute socks
..." which immediately sent me into a flustered fit of "NO NO NO NO NO" that somewhat reminded me of my mom driving in an unfamiliar city. IT'S BACK. One summer wasn't enough. Apparently even Burberry has put socks on its sandaled models. Listen, people, I think we've all learned that what works (or doesn't) on a runway does not necessarily translate to what works on you.
So after a quick google search to confirm whether this really is an up-and-coming trend I'll be seeing much more of, I found this in a Huffington Post article: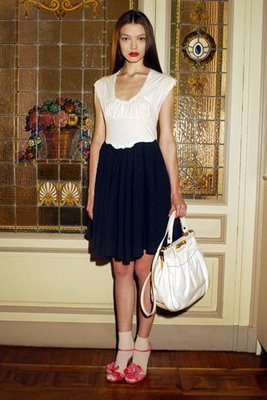 You're probably like, yeah, so? Socks with sandals, isn't that the point? Except it was accompanied by this phrase
written by Lindsay Mannering (whoever she is, just trying to not get sued here):
"Dare I say the sock and shoe combo adds a sexy, boyish charm to the outfit?"
Sure, Lindsay, I suppose you could dare to say such a thing, but you'd be dead wrong. There is nothing "sexy" about this look, from the center-parted hair, the deer-in-the-headlights facial expression, the bunched-up, volume-adding skirt, and yes, even the white athletic-looking socks with otherwise quite nice pink sandals that are giving me PTSD flashbacks of bad elementary school fashion when I was just discovering how to dress myself, or at the very least the embarrassingly un-French way The Mom dresses The Girl each day (as if the multi-layers of red on pink and the too-short pants wasn't enough...socks with sandals hasn't been attempted yet, but it has been mentioned...) The only "charm" that this outfit emanates is the kind that makes people smile knowingly and say, "Hello, little girl, did you dress yourself today?" which is actually something I've said before and was a bit embarrassed when she said "no" in front of the mother who DID dress her. Oh well, maybe they got the hint.
I can condone tights with sandals, but socks is just a bit much. It adds volume to your feet, it cuts your legs off with the horizontal line, which, as a proud owner of a pair of rather short legs I'm a bit conscious of, and makes you look like a camp counselor from a bad 90s movie.
PLEASE, for the love of anything good and beautiful in this world, let's keep this one contained.